At the CorkScrew Bar & Grille, everything has a story. The 80 year old Chicago red brick, the Schlitz Beer light, the CorkScrew Swamp mural, even the silver coins hidden in the walls of the restaurant to represent different family members.

The 30+ year local owners, Bob & Sharon Wiley have poured their love, hearts, and souls into the construction of this restaurant. What was born from that love, heart, and soul was the CorkScrew Bar & Grille, a warm, casual, and inviting atmosphere with a chef driven menu to be enjoyed by all.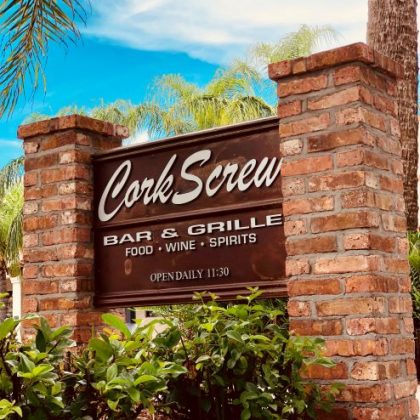 Our team at the CorkScrew invites you to join us for a truly unique and wonderful dining experience. Whether you choose the tropical outdoor patio, the warm and comfortable dining room, or the sleek and stylish bar area, our friendly and knowledgeable staff will guide you through our menu and extensive wine list and cocktail options.

It is not uncommon to hear our guests talk about the feeling of being transported back to Old Florida. Back to a simpler time where your meals were influenced by the incredible local offerings of the season, and meals were a time relax and enjoy the company of friends and family.
Please feel free to contact us with any questions or comments.
Hours
Sunday – Wednesday 11:30am – 9:00pm
Thursday – Saturday 11:30am – 10:00pm